Coconut Warrior: Anti Inflammatory Tea
---
Description

Product Details:

All Natural Ingredients:

FAQ:

Shipping & Return Policy
Turmeric + Pau D' Arco Bark
A revitalizing blend of assam black tea, coconut and turmeric, combined with wildcrafted pau d' arco bark to heal your human temple. This legendary elixir is designed to mitigate inflammation and defend your body from the inside-out.
✅ Anti-Inflammation Support

✅ Cardiovascular Health

✅ Candida Defense

✅ Anti-viral and Antimicrobial

✅ Antioxidant Support
Biodegradable pyramid tea bags,
plant-based, 

non-GMO and plastic free.
Organic and wildcrafted, all natural, whole leaf ingredients.
3 grams per tea bag = more flavor and more cups! (2x industry standard)
Vegan, kosher, paleo, keto friendly.
Low caffeine.
10% of profits donated to The Warrior Angels Foundation.
Tastes Like:
Balanced flavors of assam black tea, turmeric, and cinnamon are complemented by light coconut-vanilla undertones, followed by a kiss of subtle sweetness from pau d' arco bark.
Feels Like:
A full body massage from your tastebuds to your tummy, infusing your internal temple with the spirit of an Aztec warrior. 
Organic Assam Black Tea, Wildcrafted Pau D' Arco Bark, Organic Turmeric, Organic Black Pepper, Organic Cinnamon, Organic Coconut Flakes, Organic Natural Vanilla and Coconut Flavors, Organic Stevia.
Does Coconut Warrior Release Actual Aztec Warrior Spirits Into My Body? Most likely not, but you might feel like a warrior once you're done sipping this legendary elixir.
How much caffeine is in Coconut Warrior? About 15-20mg, or about a quarter cup of coffee.
What is "wildcrafted"? The term "wildcrafted" means it was not grown in a controlled environment, but rather harvested directly from nature. It can be argued that these ingredients are of an even higher-quality than "organic".
What is Pau D' Arco Bark? Pau D' Arco is an ancient ingredient used for centuries by the Inca and Aztec civilizations. It's been prized for it's many health benefits of anti-inflammatory, anti-fungal, and immune-boosting properties.
Warning: Consult your physician before use if you are pregnant, lactating, have a medical condition or are taking any medication.
SHIPPING POLICY
All orders are processed within 1 to 3 business days (excluding weekends and holidays) after receiving your order confirmation email. You will receive another notification once your order has shipped.
DOMESTIC SHIPPING RATES AND ESTIMATES
Shipping charges for your order will be calculated and displayed at checkout.
Free shipping for orders over $65 (not always applicable to bundles, limited edition items, and other specialty products).
INTERNATIONAL SHIPPING
We offer international shipping to the following countries: Canada, United Kingdom, Italy, Netherlands, Norway, Sweden, Switzerland, Denmark, Finland, France, Germany, Greece, Iceland, Ireland, Spain, Portugal, Australia, New Zealand.
Shipping charges for your order will be calculated and displayed at checkout.
Your order may be subject to import duties and taxes (including VAT), which are incurred once a shipment reaches your destination country. Wise Ape is not responsible for these charges if they are applied and are your responsibility as the customer.
HOW DO I CHECK THE STATUS OF MY ORDER?
When your order has shipped, you will receive an email notification from us which will include a tracking number you can use to check its status. Please allow 48 hours for the tracking information to become available.
If you haven't received your order within 10 days of receiving your shipping confirmation email, please contact us at contact@wiseapetea.com with your name and order number, and we will look into it for you.
REFUNDS AND RETURNS
We hope you enjoy your Wise Ape purchase!
In the event that your order arrives damaged in any way, please email us as soon as possible at contact@wiseapetea.com with your order number and a photo of the item's condition. We address these on a case-by-case basis but will try our best to work towards a satisfactory solution.
If you have any further questions, please don't hesitate to contact us at contact@wiseapetea.com.
Customer Reviews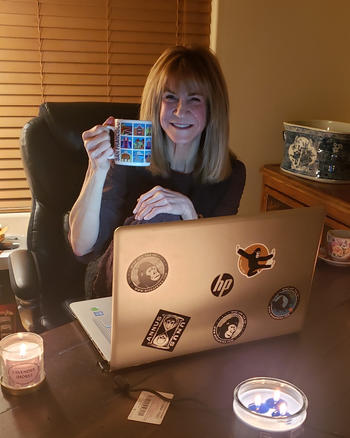 02/26/2021
Hands Down My Favorite Tea
I love this tea so much! It has a wonderful flavor. On top of all the health benifits from this tea, I feel relaxed and comforted just taking the time to enjoy it. I have tried almost all the teas from Wise Ape and this is my personal favorite. Like a little treasure in a steep bag!
Carol H.

United States
08/11/2022
My Favorite Tea!
The tea is great and it is my new favorite. The aroma and taste is very satisfies and sooths the senses. Unfortunately 3 bags were pretty much empty.
07/19/2022
Coconut Warrior
Excellent product
Ken S.

United States
07/14/2022
I have not received it yet
I'll let you know when I try it
Dave M.

United States
Hi Dave, USPS is showing that your package was delivered to your mailbox 2 days ago on 7/12. If you've not yet received it was likely a USPS error and we'll gladly remediate the issue. Apologies for any frustration.
06/28/2022
Satisfied Customer
I am very pleased with this tea. The smell and taste overwhelms my palate. Throughly satisfied and love this tea. Will order again.
Roxanne S.

United States
Thank you, Roxanne. Happy to hear you're loving that cup of wisdom. :)